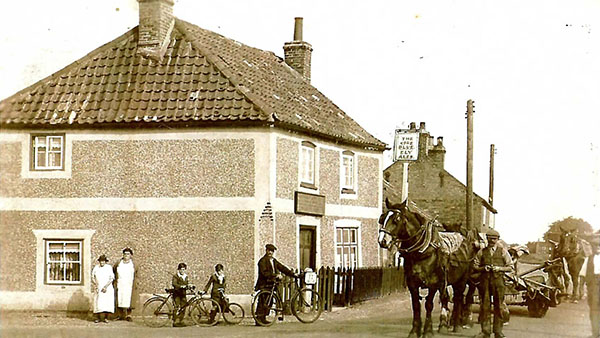 The True Blue is a pebble dashed property on the corner of Church road and station road. It was a public house from the late 1700s through to sometime around the 1940s.
| Dates | Licensee(s) |
| --- | --- |
| by 1796 - 1847 | William & Judith Whittome |
| 1857-1890 | Samuel Shingles |
| 1891-1892 | William Walker |
| 1896-1900 | James A. Rowell |
| by 1904 | John Miller |
| 29/09/1930 | Harry Miller |
| 03/01/1938 | George Thomas Armsby |
| 15/12/1941 | Harry Howlett |
1857-1891, Samuel Shingles
Samuel Shingles was born about 1818. He is mentioned as occupying the True Blue public house in 1857 when it was advertised for sale. R. M. Layton was disposing of his brewery and advertised for sale by auction the remaining three beerhouses; The Royal George of Salters Lode, the True Blue of Ten Mile Bank, and the Black Horse of Hilgay.
Samuel was in the Waterman's business which he appears to have given up by May 1871 when he advertised the sale of his boats and other equipment.
The 1871 census shows him living with his wife Sarah at the True Blue in Ten Mile Bank.
Samuel Shingles was fined 5s and 11s cost for being drunk at the True Blue public house in October 1874. Norwich Mercury, Saturday 17 October 1874
The 1881 census show Samuel and Sarah are still at the True Blue.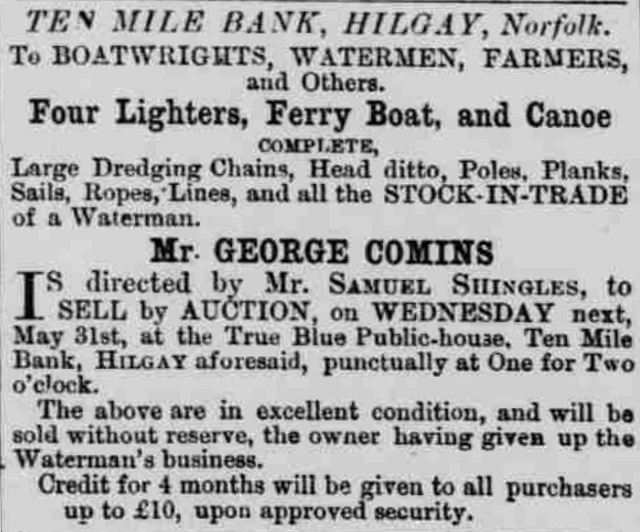 1900/1901 Advertised to let
The True Blue Beerhouse was advertised to let by G. Mills, Brewer, Downham Market Thetford & Watton Times and People's Weekly Journal. 08th Sept 1900
The True Blue Beerhouse was advertised to let by G. W. Mills, Brewer, Downham Market Stamford Mercury, 17th May 1901
1938 Inquest
An inquest into the death of Robert William Crowe, a 64 year old retired railway guard of Hunslet, Leeds, whos body was recovered from the Ouse, was held at the True Blue Inn on 31st December 1938. A note left by the dead man "Troubled too great. Will be found in the river." was read out.
The deceased's cousin, James William Stevens, shopkeeper, with whom he had been staying, stated that Crowe had been depressed after the recent death of his brother. The witness last saw Crowe at 10:30am on Thursday. When it was believed he was going to clean up his brother's house.
Edward Rayner, labourer, of Ten Mile Bank said that he discovered the body in the river at 1:30pm.
A verdict of "Drowned himself, whilst the balance of his mind was disturbed." was recorded.