Leflay Family
John & Ann Leflay
John Leflay was born in 1792 at Denver, Norfolk and worked as an agricultural labourer. He married Ann who was born in 1789 at nearby West Dereham. They lived in Boughton and Wereham for a short time after marriage, before settling to raise their family at Bexwell. Sadly John died on the 25th June 1837 at the age of 45 when youngest son John was just 4 years old. John is buried at Bexwell. Following John's death Ann moved the family to Ten Mile Bank. Ann did not remarry; she worked on the land and continued to raise the family. Ann died at 75 years of age, and was buried on 5th February 1864 in St Mark's cemetery at Ten Mile Bank.
John and Ann had eight known children; Mary (1812), James (1817), William (1821) died age 8, Charles (1823), George (1825), Sarah (1829), Aaron (1831) and John (1833)
Mary Leflay
Mary, the eldest daughter of John and Ann, was born in Boughton, Norfolk. She never married and in later life lived at Ten Mile Bank with brother John and his family. She assisted in the family grocery and drapery shop.
James Leflay & Susanna Titmarsh
James, the eldest son of John and Ann, was born in Wereham and grew up to marry Susanna Titmarsh in 1839 who was born at Littleport in Cambridgeshire in 1819. They lived at Ten Mile Bank until James got a job on the railway and they went to live at Holton le Clay, Lincolnshire. Both died at Caistor, James in 1882 age 65, Susanna in 1894 age 73. They had ten children, sadly only four survived into adulthood.
Charles Leflay
Charles, the second eldest surviving son of John and Ann, was born at Bexwell. Charles married Hannah, daughter of John Budd in 1844. They had four children; John (1847), James (1849), Sarah (1852) & Mary Ann (1854).
Hannah died in June 1867 and Charles was remarried to Ann Shingles in 1868. Ann was the daughter of Henry and Alice Shingles, from Ten Mile Bank. Charles and Ann had one son; Charles Robert (1870). Charles Robert went on to marry Beatrice Clara Sturgess. Charles Robert and Beatrice Clara lived at Ten mile Bank and had three children before moving to Langham Essex. There is a small grave in St Marks cemetery marked Geoffrey Thomas the beloved child of C R & B C LEFLAY.
Charles and Ann remained in Ten Mile Bank. Charles died 2nd February 1909 aged 86. Ann died in 24th March 1910 age 82. They are buried together at Ten Mile Bank in St Marks cemetery.
Sarah Leflay
Sarah, the second daughter of John and Ann, was born at Bexwell. She married in 1852 at the age of 23.
Aaron Leflay & Susannah Burton
Aaron was born at Bexwell and married Susannah Burton, they lived at Ten Mile Bank. They had five children, Susannah (1855 died at 18 months), John (1857 died age 16), William (1859), Sarah Ann (1861) and Jane (1863 died at 10 months).
Aaron died in February 1863 at the age of 32 and is burried next to his mother Ann in St Marks cemetery. Susannah was remarried to William Sindall and had two more children Robert (1869) and James (1870).
John Leflay & Mary Barrow
John Leflay was born in 1833 and was the yougest son of John and Ann Leflay. John met Mary Barrow, who came from the nearby village of Southery. Mary was the daughter of Edward and Mary Barrow. John and Mary were married at Southery in January 1855 and they settled at Ten Mile Bank where all their children were born.
They began their married life at Anchor Drove TMB, John worked as an agricultural labourer. By 1871 Anchor Drove had become known as Long Drove. By this time they had started up a family business, a grocer and draper shop. The family ran the shop for more than ten years, but John eventually returned to farming, where he employed other men.
By 1901 John and Mary Leflay had retired and had gone to live by the sea at Poplar Avenue, Heacham. John and Mary eventually moved to Great Snoring in Norfolk where they lived out their days. Mary died on the 3rd July 1913 at the age of 77. Five years later they were reunited when John died on the 10th May 1918 at the age of 85. They are buried in Great Snoring church yard.
John and Mary had fifteen children, but only seven survived into adulthood; Sarah (1855), Hannah (1856), George (1858) died age 3, Verena (1860) died at 5 months, Verena (1862), Ann Mary (1863) died age 8 months, George Aaron (21st June 1865), John Barrow (1867) died age 8, James (1869) died at 7 months, Ada Jane (1871), Albert Arthur (1873) died at 8 months, Ernest William (1875), John Hugh (1877) died age 1 year, Ethel Mary (1879) died at 10 months, Eva Mary (1882).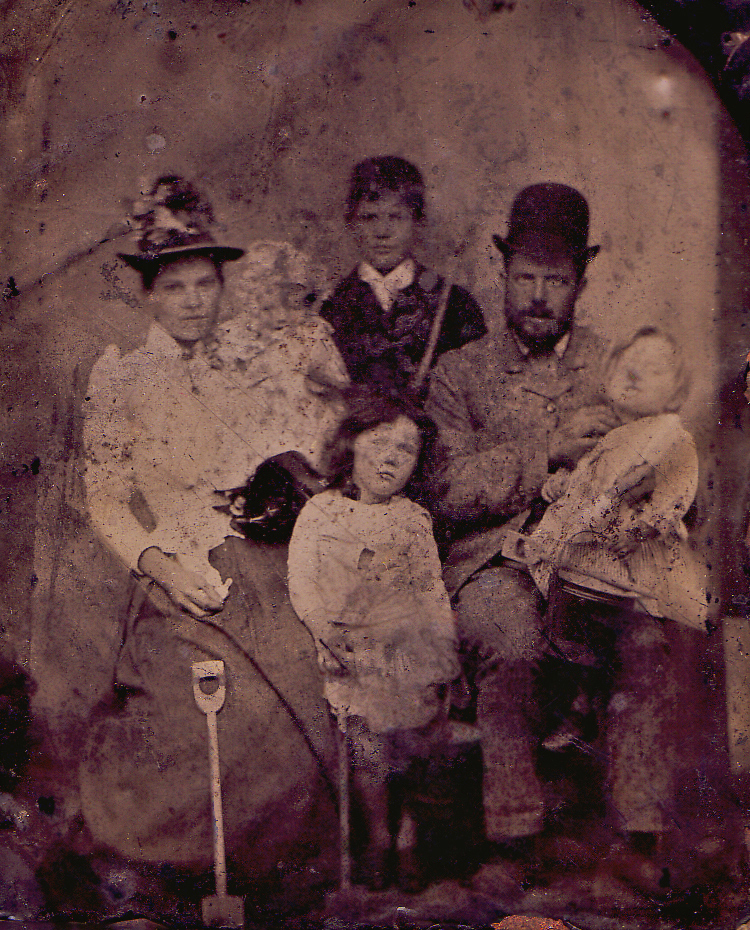 John, Mary and family.
Picture Taken 1873
Sarah Leflay
Sarah, the eldest daughter of John and Mary, became a dressmaker and married William Wright from Cambridgeshire in 1877. They continued the family tradition and owned a grocers and drapery shop in Stow Bardolph. By 1891 William and Sarah had moved to Brampton, Huntingdonshire and continued as grocers and drapers in High Street. William and Sarah had five children, Lois (1878), Samuel (1879), Thomas (1881), Dora (1884) and Elsie (1887). Samuel married Helen Mills from Staffordshire and together they ran a grocers and drapery shop in Main Street, Alconbury.
Hannah Leflay
Hannah was the second eldest daughter of John and Mary Leflay. Upon leaving school she assisted in the drapery side of the family shop at Ten Mile Bank. She married agricultural labourer Michael Rust in 1883, however Michael died in 1887 at the age of 35. Hannah was remarried to baker and grocer Harry Theobald in 1889. Hannah died eight years later in 1897 age 40, there is no evidence to suggest that she had any children.
Verena Leflay
Verena moved away after leaving school and worked as an assistant draper at a shop in Sporle Street, Palgrave, Norfolk. She returned to Ten Mile Bank and married John William Freeman, an agricultural labourer from Southery in 1887. They had two children, Evelyn (1889) and Arthur (1890). They continued to live at Ten Mile Bank, just a few doors away from Verena's parents. Verena died when she was 45 on July 28th 1908 and is buried in Ten Mile Bank cemetery.
George Aaron & Mary Ann Beaton
George Aaron was the eldest surviving son and the seventh child of John and Mary Leflay. He was born at Ten Mile Bank on the 21st June 1865 and was baptised on the 16th of July. He was educated at the King Edward VII Grammar School in Kings Lynn.
During term time George Aaron boarded at the school. Towards the end of term he would write to his parents to inform them of his impending homecoming. John and Mary would send a horse and cart to the school to collect his trunk a few days before the end of term. George Aaron would then be expected to walk the fifteen miles to Ten Mile Bank as soon as the term ended. George Aaron left school in 1881 and worked on the grocery side of the family business.
It is understood that George Aaron enjoyed speed skating which was a popular activity on the Fens at this time. One member of the Leflay family, from Ten Mile Bank, took part in the ice skating match on the river Wissey at Hilgay in January 1871. It is possible that this was George Aaron Leflay, although he would have been only 6 years old at this time.
George Aaron married Mary Ann Beaton, the eldest daughter of John and Mary Beaton from Coates in Cambridgeshire. They were married on 8th December 1886 at Ten Mile Bank. George worked as a miller and was also a local Primitive Methodist Preacher.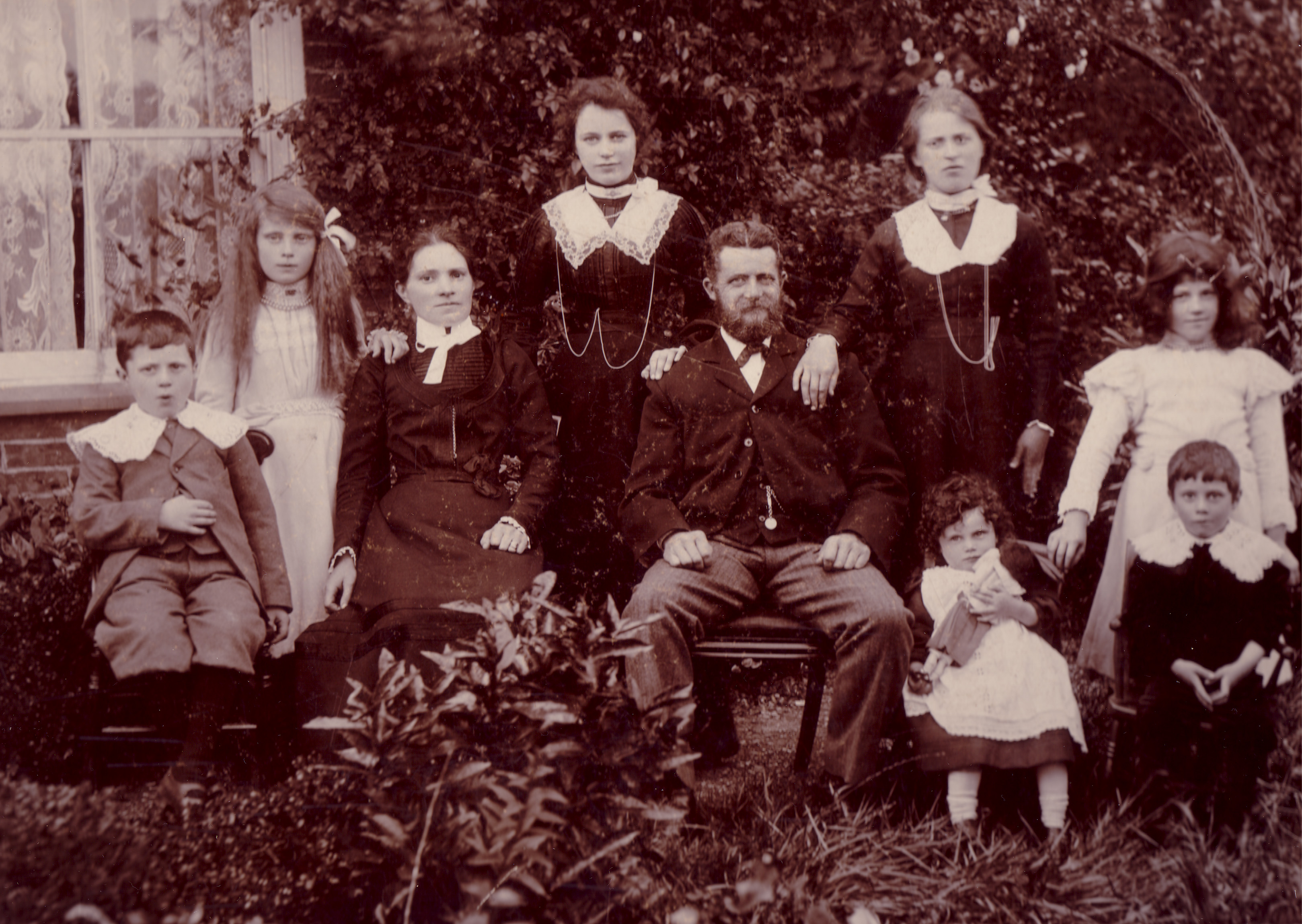 George Aaron Leflay, with Mary Ann & their family.
abt. 1902
George and Mary had nine children; Mary (1888), Ethel (1889), Hannah (1890), Mabel Aleatha (1893), John (1895), Hubert (1897), Lily (1900), Ivy Verena (1907) and George (1909).
George Aaron and Mary Ann Leflay stayed at Ten Mile Bank for several years until about 1906 when they, and the children, moved to Folly Farm at Staughton Moor, Huntingdonshire. George Aaron Leflay died on October 8th 1926 at the age of 60. Mary Ann went to live in a cottage in Great Staughton until she died on March 20th 1940 in her 73rd year. They are buried together at Great Staughton cemetery.
Ada Jane Leflay
Ada Jane lived with her parents in Ten Mile Bank, it is understood that she had some form of learning disability. In 1901 she was living next door to George Aaron and working for an elderly lady as a housekeeper. Ada left Ten Mile Bank and went to live with her parents at Fernleigh, Neville Rd, Heacham and later with younger sister Eva in Poplar Avenue, Heacham. She died July 3rd 1949 at St Andrews Hospital, Thorpe-next-Norwich. She was 78
Ernest William Leflay
Ernest William grew up in Ten Mile Bank and when he left school became a grocer and baker. On April 22nd 1899 he married Emily Maud Mary Lowden, from Islington London. They were married at St Marys Church, Hornsey Rise, Islington. They began married life at Snettisham where Ernest worked as an agent for The Prudential Assurance Company. They had three children, Hilda Maud (1900), Ida May (1901) and Ernest John (1904).
In 1906 Ernest and Emilie emigrated to America, via Canada. Sadly 10 month old baby Ernest died on April 13th 1906 in Ontario Canada, of measles. Ernest was drafted into the American army during the Great War in September 1918. He was described on his draft form as short, thin, with blue eyes and brown hair. Emilie was named as his next of kin.
By 3rd April 1930 at the age of 54, Ernest was widowed and working as a hospital orderly. He was lodging alone at West 112th Street in Manhattan, New York.
Eva Mary Leflay
Youngest daughter of John and Mary, Eva Mary, known as Polly, grew up in Ten Mile Bank. She left in her late teens to accompany her parents to Heacham, where she taught music privately from the new family home, 1 Victoria Villas, Poplar Road and later at Fernleigh Neville Rd (1911). Eva married Fred Collins and they adopted a baby called Mary. They later moved to King's Lynn and remained there until they died. Fred died in 1946 and Eva died in 1969 at the age of 87.