The Jolly Anglers seems to be the oldest public house in the village with the most history. There are many newspaper articles over the decades detailing events that happened there. Such as the sale of items from Carman's mill. The building is a very elaborate and unusual design with walls at angles and decorative gables. This is in stark contrast to the buildings of the 'True Blue' and 'Railway Tavern'. Located on the west bank of the ouse, it is set back from the road and currently painted pink. It has been that colour from at least the 1980s.
1794
The first mention is over 220 years ago when Joshua Palmer is listed as licensee in 1794.
Shown on Bryant's 1826 map.
Shown on Cary's Improved Map of England and Wales, 1832.
1852
Jolly Anglers public house and 28 acres of land to be let by auction.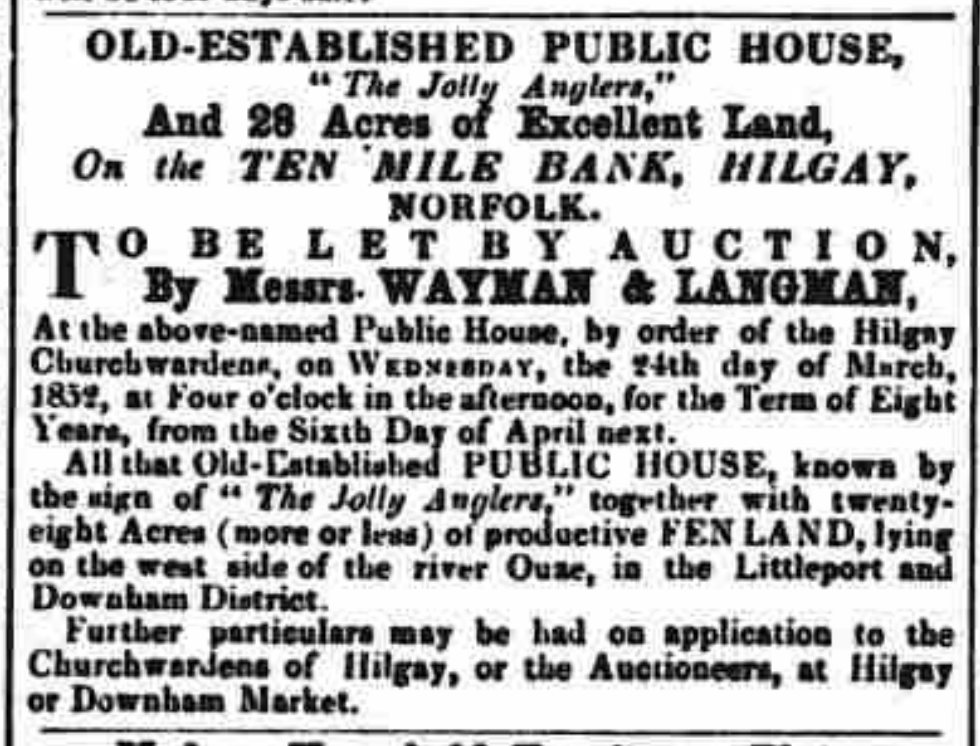 Cambridge Chronicle and Journal, March 6, 1852
1853
It was listed again in January 1853.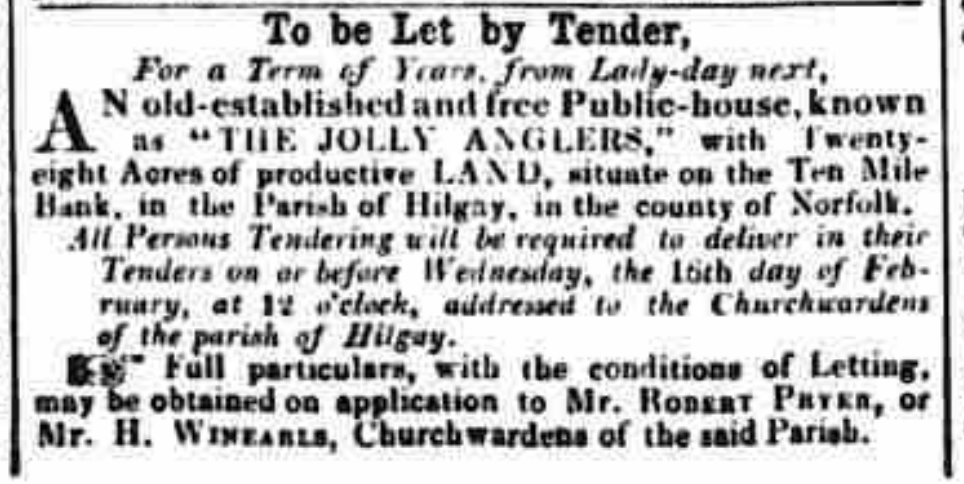 Cambridge Chronicle and Journal, January 29, 1853
1854
History, Gazetteer & Directory of Norfolk, by Francis White. [1854] lists the "Jolly Anglers, Wm. Tingey" under Inns and Taverns.
1856
Howlett Edward, victualler, ''Jolly Angler" inn, and assistant overseer, Tenmile bank Craven & Co.'s Commercial Directory of Norfolk, 1856
1859
It was advertised again in February 1859.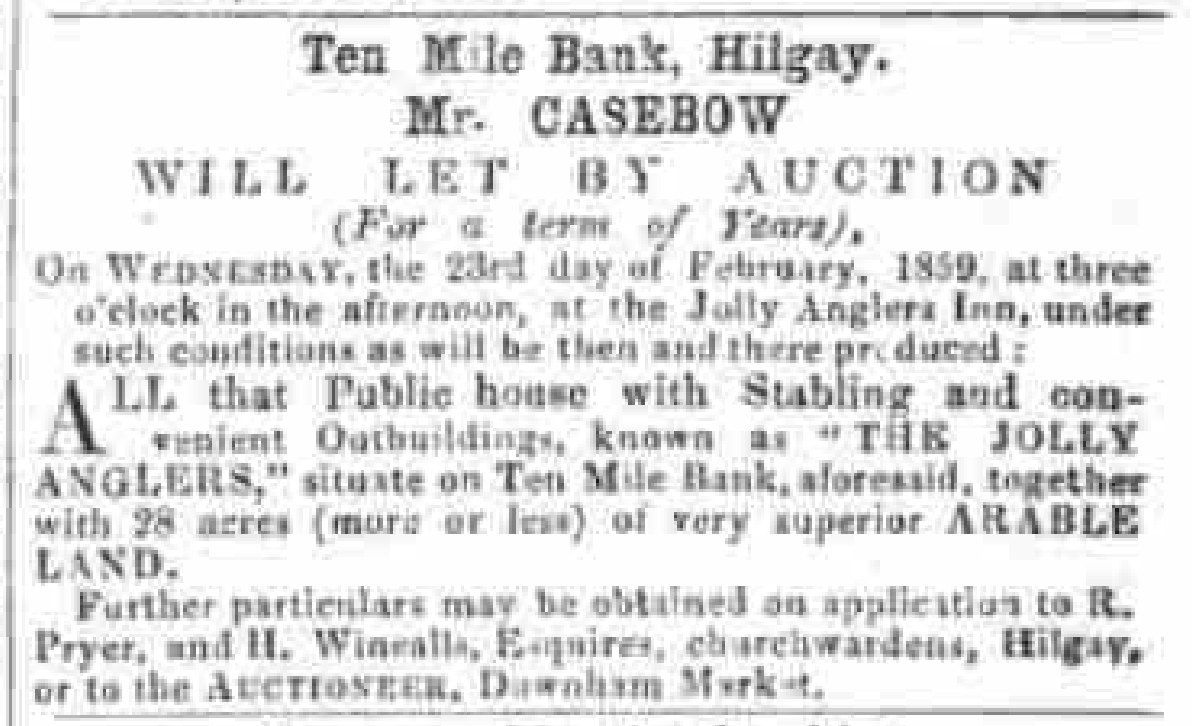 Cambridge Independent Press, February 12, 1859
1891 Census
5th April 1891. The Jolly Anglers is listed in the 1891 census as '13 Ten Mile Bank'. The occupants are listed as;
Susanah Porter (age 35). Publican & Farmer
Herbert Porter (age 17) Farmer's Son
Edith Porter (age 16)
Maud Porter (age 14) dressmaker's apprentice.
Laura Porter (age 12) scholar.
Daisy Porter (age 10) scholar.
Harold Porter(age 9) scholar.
Stanley Porter (age 6) scholar.
Sidney Porter (age 2)
Leonard Porter (age 1)
Thomas Yelton (age 16) scholar.
1901 Census
Listed as '13 River Bank W.' in the 1901 census. Although there is no mention of the Jolly Anglers, or a publican, the names and address seems to match up. The occupants are listed as;
George Bedford (age 56)
Mary Ann Bedford (age 56)
Margaret Ellen Bedford (age 32)
Eliza Bedford (age 30)
Ada Ann Bedford (age 28)
Mary Ann Bedford (age 23)
Alfred Bedford (age 14)
1911 Census
George and Mary Ann are listed in the 1911 census. Their address is 10 Mile Bank, Downham Market. Again no mention of the Jolly Anglers.
1915 Joseph Hugh Sturgess
Joseph Hugh Sturgess can be found at the Jolly Anglers in the 1915 register of electors, under the Ten Mile Bank polling district.

1919 Sale
The property was sold on 11th October 1919 to Arthur Hailstone of Hilgay. The licence was discontinued and the property became a private dwelling. The property still exists in 2018.