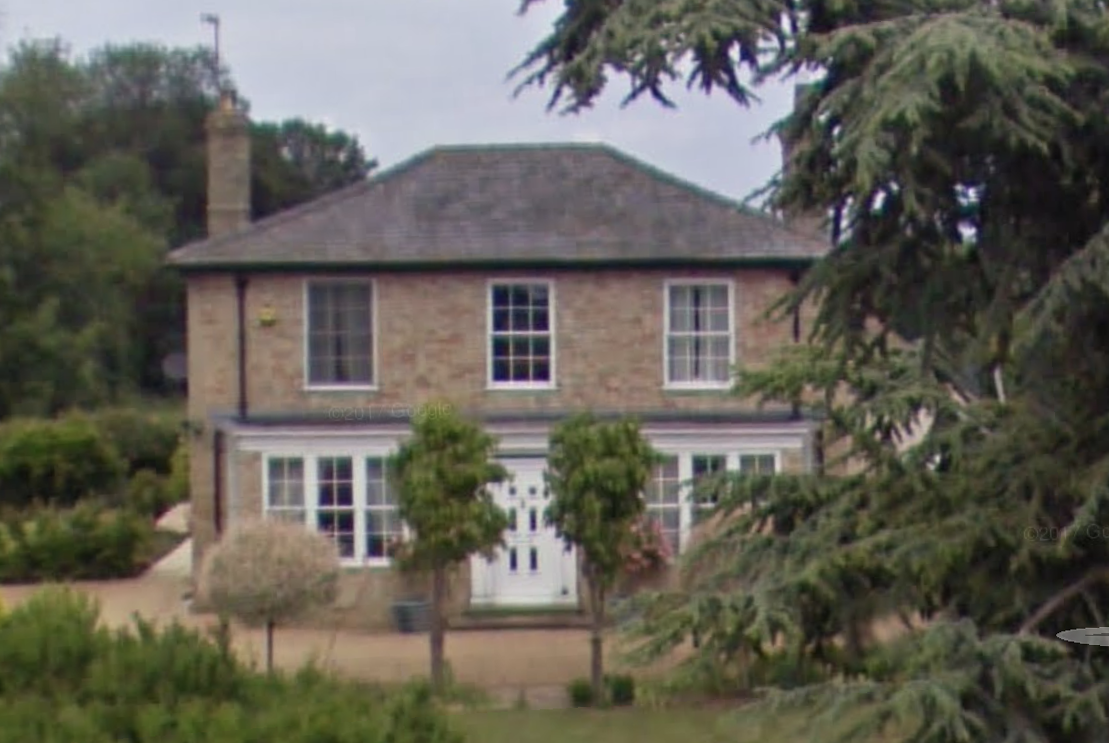 Image taken 2011
Old maps from the late 1800s show three 'houses' by name; Hawthorn House (Riverbank West / Engine Road), Wellington House (Long Drove / Station Road) and Pleasant House (Cross Drove). These houses must have been significantly large enough to have been included on the maps. They were most probably built and occupied by affluent families, in these cases, farmers.
The earliest mention of Hawthorn House seem to lie in the burial records of St Mark cemetery. Where William Smith who died in 1886 is mentioned as being the son of William and Jane Smith of Hawthorn House. Census data from prior years shows the Smith family living in the area, but there is no mention of Hawthorn house.
Timeline
1841
The census data shows the Smith family living in Ten Mile Bank. I suspect this is not Hawthorn house, but have no evidence. The head is William a blacksmith aged 45. With his wife Jane aged 30 they have five children; John (16), James (14), Robert (12), Hannah (8), William (6) and Martha (2).
1861
William Smith aged 66 is a farmer of 28 acres. He is living with his wife Jane aged 51, son William and two daughters Jane (17) and Margaret (6). There is no mention of Hawthorne house.
1871
William Smith aged 75 is a retired farmer. Living with his wife Jane aged 60. His son William aged 36 is a farmer of 46 acres. There is still no mention of Hawthorne house.
1872
William Smith died 28 Sept 1872, aged 78 years. Buried at St Marks, Church road.
1881
The census does not state Hawthorn House, but this seems to match up with burial records below. Head of the house is Jane Smith aged 70. A retired farmer's widow. With her is her son William aged 40. Also her daughter Jane Pryer and two grandchildren Amy J. Pryer and Mary H. H. Pryer.
1886
Burial records show William Smith, Son of William & Jane Smith, of Hawthorne House Ten Mile Bank, died June 1st 1886 aged 46 years.
1892
Jane Smith died 1892 aged 87 years. Buried at St Marks.
1903
Advertised for sale on 15th Aug, 1903 in the Norwich Mercury. The article states the property is currently occupied by Albert Edward Brundle.
Clifford Rose
The Kelly's directory of 1925 lists Clifford Rose, Hawthorn House.
Clifford Rose was living at Hawthorne in April 1937 because there is correspondence relating to the school, where Clifford appears to be a communicator.
In 1939 Clifford and Mary Rose are living at Hawthorn house with their two sons, John Stewart and Kenneth Stewart. However in 1943 John Stewart Rose was killed in action during the 2nd world war. Kenneth Stewart Rose was killed in action 17th February 1952.